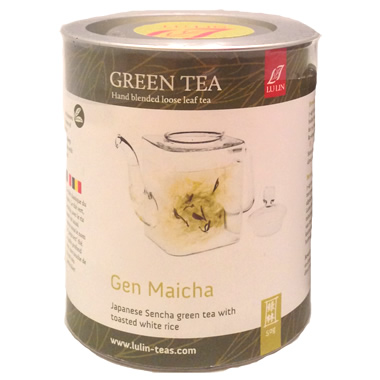 Gen Maicha
---
A traditional Japanese tea made from Sencha green tea and toasted rice.  It has a strong grassy and toasted flavour.  It is also referred to as Popcorn tea

TASTE & APPEARANCE
Grassy & toasted
Pale green infusion


TIME OF DAY & CAFFEINE LEVEL
Any
Low


Ingredients
Japanese Sencha Green Tea
Toasted rice


BREWING
2.5g-4g in a teapot, use boiled water cooled to 80°C. Infuse for 2-3 minutes
More Info
Gen Maicha is a blend of sencha green tea with toasted rice.  It is also known as "popcorn tea" due to some of the rice kernels popping to resemble popcorn. 
When brewed it has a pale green coloured infusion, and the taste is a wonderfully balanced mix of the strong grassy Sencha and the toasted flavour of the rice.
There are a number of myths as to the first origins of this traditional Japanese tea.  One is that monks used their rice pot with rice stuck to the bottom to their make tea.  Another is simply that it is "people's tea" as rice is much cheaper than tea, the rice was added as a filler to make the tea go further and last longer.
Due to the addition of rice in the tea and new legislation, please see the nutritional content below: